I started shopping at thrift stores as a way to give life to my lifeless closet and save money along the way. New clothes are expensive – especially to someone making a peanut-sized salary, which was me just out of college – and blending in is boring, so thrifting has been kind of a life saver. And the good thing is, even if you've never done it before, you too can shop secondhand like a pro. Read on for a few things to know before you get your hands dirty. And because the video for Macklemore's "Thrift Shop" is so damn awesome, the visuals are dedicated to it.
Make a Plan
Before you leave, make a list of what you're looking for. Thrift shopping can be seriously overwhelming – if it wasn't, people would do it all the time – so going into it with a plan of action is key. Think about what shapes, styles, colors, fabrics, etc. you want, so then you can sort through rows or piles of clothes more quickly. Indecisiveness will slow the process and eat at your patience, and before you know it, half an hour has passed and you're still on the same rack. That said, don't be afraid of taking your sweet time. You can't rush finding the perfect vintage tee or scarf (really, though).
Shop the Whole Store
Forget everything you know about non-secondhand shopping. Entering a thrift store is kind of like that scene in Mean Girls where Cady fantasizes about attacking Regina like a wild animal in the lunch room, only, you're Lindsay Lohan and the clothes are Regina. There aren't any rules, so you have to tackle everything (without, you know, tearing it to shreds). Many places section off pieces by category and size, but it tends to be a little messier, so comb around for stuff that may be in the wrong place and only loosely follow the size markers, because some larges look small and vice versa. Then, check out the men's or boy's section. I've found some of the best things there – plus, it's usually cheaper and less picked through.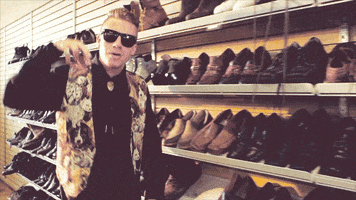 Look for Potential
If you have an eye for DIY and a few tools (or a tailor), then the thrift store is your oyster. With a little inspiration and some trial and error, you can cut loose jeans into shorts, treat a shirt to make it thinner, make a skirt into a dress, or turn an oversized blazer into a dress. Think outside the room of stuff and make shit happen.

Don't be Unrealistic
It definitely pays to be scrappy, but you can't be unrealistic. Don't walk away with anything that needs to be considerably altered because chances are you'll never get around to doing it. These things will just sit in a pile somewhere until, finally, after six or some months you take them to Goodwill. Trust me, I've learned this the hard way. Something might be almost perfect, but if you're not COMPLETELY in love with it, it's just not worth it. This is my general shopping rule in life, because otherwise I'll end up with a closet full of maybes and a chronic fear of looking at my bank account (although, I can't say I've fully conquered either). If something would look better if it had this or that, or if it doesn't really fit, leave it. You're better off in the long run.
Take a Closer Look
When you do find something you like, factor in every detail. Check the tags if you can find them. Look for high-quality fabrics, like cotton, linen, silk, wool, and cashmere. Synthetic fibers, like polyester and acrylic, won't hold up as well over time. Take washing instructions into account as well – if something is dry clean only, you may want to rethink just how badly you want it. If marked, the brand will also give you an idea of the quality and worth in terms of price. And, not to state the obvious, but it's so important to look for imperfections of any kind. Maybe it's missing a button or has some not-so-noticeable-but-still-noticeable armpit stains. If it's not in the best condition, don't buy it.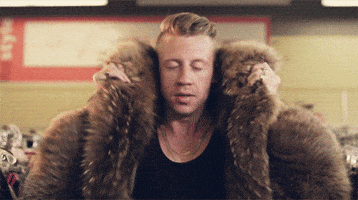 Did you like this article? If so, let us know your thoughts in the comments below.
Are you following us on Facebook yet? Please do so we can keep you updated on everything millennial and youthful and cool. We aim to inform, entertain and inspire and you can find all those goodies on our Instagram and Twitter too. See you there 🙂
Subscribe To Our Newsletter
Join our mailing list to receive the latest twenty-something tips and tricks right to your inbox.
I swear you're going to love us.