You just spent 90 minutes pushing your body to its limits and breaking down muscle fibers. The proper way (or should I say whey) to promote recovery and capitalize on gains in the gym is to finish off your workout with a protein shake. There are hundreds of different powders, liquids, and pre-made shakes to choose from, which may be overwhelming if you're new to the scene.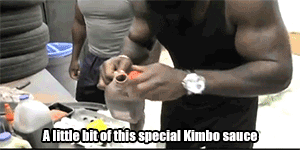 My favorite brand and flavor of protein powder is the cookies and cream flavor of Gold Standard by Optimum Nutrition. I love its taste, and the overall simplicity and efficiency of the nutrient profile make it one of the best on the market in my opinion. Gold Standard Natural is even better because it is void of artificial ingredients and flavoring.
I have had years of experience in the art of shake making, and there are infinite ways to pimp your shake. Here are a few of my favorite recipes:
The Mean Green Protein Machine
Additions:
½ Tbsp. Ground Flax Seed
½ Tbsp. Chia Seed
Handful of Spinach
¼ Tsp. Spirulina
PB and Gains
Base: 2% Milk
Fruit: Frozen Banana
Protein: Gold Standard Vanilla Whey
Additions:
2 Tbsp. Peanut Butter
1 Tbsp. Honey or Blue Agave
½ Cup Almonds
The Willy Wonka
Additions:
½ Tsp. 100% Pure Cocoa Powder
1 Handful Ice
3-4 Squares of Dark Chocolate
1 Tbsp. Honey or Blue Agave
Strawberry and SpongeBob
Base: Unsweetened Almond Milk
Fruit:
1 Cup Strawberries
1 Cup Frozen Pineapple
Protein: Gold Standard Vanilla Whey
Additions:
½ cup Cottage Cheese
½ Tbsp. Ground Flax Seed
In general, the secret to changing the game in any of your shakes is a frozen banana. If you are opposed to the taste, you can try adding half a banana and using a more potent flavor like chocolate for your protein powder. In terms of additions, don't be intimidated by green. You won't taste spinach or spirulina in your shakes, but you'll feel the added health benefits in the form of increased focused and a small boost in mental energy. Flax and chia seeds are good sources of fiber and add texture to the shake.
I have found that adding sliced pear or apple to any shake can give it an added sweetness boost without dramatically changing the flavor profile. Regular milk also works as a substitute for almond, and if you are really feeling bold you can try coconut milk. If you decide to go the coconut route, ditch the frozen banana and stick to chocolate flavored protein powder. In the end the choice is yours, and trying out different shakes can serve as motivation to maintain consistency in your workout routine.
Did you like this article? If so, let us know your thoughts in the comments below.
Are you following us on Facebook yet? Please do so we can keep you updated on everything millennial and youthful and cool. We aim to inform, entertain and inspire and you can find all those goodies on our Instagram and Twitter too. See you there 🙂