Ever struggled with the decision about what outfit to wear when meeting someone from Tinder? Yup, me too. As a person who initially engaged with her current boo on the app, it was a question that needed answering…for science. I asked 50 people, "if you were on a Tinder date with a hard 9, what could they wear to boost themselves up to a soft 10?" The responses were weird, wonderful, and insightful. Here are the answers, straight from the horse's mouths.
If they put effort into their look for a Tinder date it could mean they are excited to go out with me!" – Ruben C.
"I'm really into guys wearing cuffed pants with socks and Vans, it's so effortlessly cool without being stuck up! The other day I saw some dude wearing a bowling shirt that said "Dak", but that wasn't his name and I was like, BOING! (P.S. Flip flops are an automatic minus 12!) (P.P.S. I think I'm into mechanics, I just realized.) – Gaby L.
"A random colored lipstick." Pat R.
"Take a layer off! Sometimes I feel like they over-accessorize – a hat, a watch, a jacket and kicks. Too much! Keep it simple." – Caroline H.
" Nothing. Wear nothing" – Nicole W.
"Nothing is sexier on a man than a cool button up or graphic tee, some skinny distressed jeans and statement boots with a cap. That's a solid 10 right there…but they can do without the cap too." – Cecelia P.
"Muscled guys look better in simpler outfits. Something that shows off their active/fit lifestyle and personality with well-fitting quality jeans + a simple colored shirt (bonus points for a quarter sleeved button down) + a nice watch and…oddly enough, flip-flops or boat shoes. I like casual wear. Some sneakers can work. Like Forrest Gump says, "shoes are very important." There's no quicker way to kill a good dude outfit than with ugly dad barbecue running shoes. As for girls, same rules apply. If you're the sporty type, wear sporty. If you're the cinephile hipster type of lady, go dapper." – Bella R.
"Ermm, a nice shirt and good shoes. Oh, and jeans or trousers that show off their sweet ass. S'all bout dem cheeks." – Kelly T. "I would say I like a button up short sleeve shirt that has a fun tiny print, buttoned up all the way." – Hannah K.
"Funny t-shirt, jeans, converse. Bonus points for a beard." – Mandy S.
" I would say a man bun, but I guess that's technically not clothes?" – Amanda B.
"Dungarees. Was that a bad answer?" – Ricky W.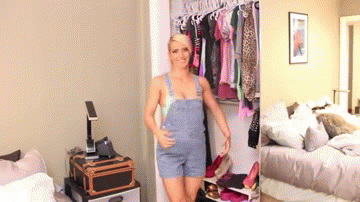 "In my opinion? I love manly men. They would be simple – wear fly boots, sexy jeans, and a casual tee shirt" – Carly L.
"I went on a date with a guy who was completely cute, but I think what solidified his first impression was his button up. I remember it clearly. He had the sleeves rolled up, but it was this casual, sexy, didn't-try-too-hard top that just impressed me so much. It made him look effortless. That's just so sexy." – Emily T.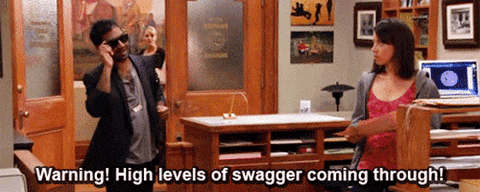 "A blazer and nice jeans, that would definitely push him up to a soft ten. With girls it's harder because a girl's personality can outshine anything she's wearing. Honestly, though, if a girl is wearing a beanie that would bump her up. I love girls in beanies!" – Emily M.
"Hair is the most underrated characteristic for girls. Nice hair is important to me." – Brendan W. "I definitely prefer guys who dress simply and cleanly. It's more about the fit of clothes. My ideal outfit on a guy would probably be a Henley tee, well-fitting slim black jeans and nice shoes like the Clark desert boots, preferably in black leather or suede. My experience says that this combo makes guys seem taller!" – Nicole A.
"Some really nice jeans that make the booty look good." – Hannah S.
So there you have it. Keep in mind that what is most important when getting dressed for a Tinder date (or any date for that matter,) is feeling good for you. Everybody likes a little something different, so you might as well wear what you like and worry less about impressing your date. You never know, they might find that new scarf pretty sexy. Happy swiping!