The road-trip to Zion National Park, Bryce Canyon, and the Grand Canyon –  an epic week of camping where we learned a lot about what to do and what not to do, the hard way!
1 Volvo, 5 girls, 7 epic days of camping, you do the math.

Lesson 1
Check campground availability. Although we did successfully plan our route beforehand using the wonderful www.roadtrippers.com and had a comprehensive packing list, our first mistake occurred early on in our trip: we didn't realize that we would be camping over Memorial Day Weekend. This meant—you guessed it— everyone and their mother (literally) wanted to go camping this weekend, so there were zero campsites open at Watchman Campground in Zion National Park, our first stop.
If we wanted to camp at Zion that weekend, we would have to drive nine hours overnight to snag a first-come-first-served campsite in the early morning at South Campground. Our trip went something like this…
 10:45PM: Los Angeles. With our Volvo bursting with our supplies for the week, we hit the road. Blasting Taylor Swift and Kendrick Lamar's "Bad Blood Remix," we drove-thru Starbucks for some venti coffees to start the night.
3 AM: Gas station on I-15, off the Vegas Strip. What started as an innocent candy refuel stop quickly turned into a disastrous gambling opportunity. $3 were lost at those gas station slots.  Still blasting Taylor Swift and Kendrick Lamar's "Bad Blood Remix," we went on our way. Our 'Snapchat Stories' continued to document the story of our increasingly delirious journey on the desolate highways connecting Los Angeles and Southern Utah: dollar bills of the Las Vegas geotag rained on tired heads resting on neck pillows, Nerds Ropes and Hot Cheetos refueled our spirits when we were in desperate need of a 5AM snack, dynamic stretching in an otherwise abandoned gas station helped energize us through the final hours of the drive, and a spontaneous purchase of matching raccoon hats had us cracking up as we greeted the sun that sleepily crept up through our windshield.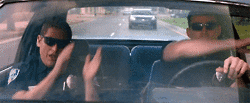 Lesson 2
Know your time zones. We weren't going to put this on the list, but sadly we struggled with this more than once. In this unfortunate mix-up (the first of two), we were forced to forgo a diner breakfast feast when we lost an hour crossing into Utah. Our two-hour window to get to the park and find an open campsite turned into a one-hour window, so our glorious feast turned into a quick stop at McDonald's. But hey, not mad about Egg McMuffins. 7:30 AM (NOT 6:30): Zion National Park, South Entrance. We zipped through the waking town outside of South Zion, and were all surprised by the fact that we weren't really "out here" in the wilderness. In fact, there were grocery stores, cafés, and even a movie theater. Blasting Taylor Swift and Kendrick Lamar's "Bad Blood Remix," we continued into the park.
We proceeded to unashamedly peer pressure a stranger out of his campsite; then crashed for the next few hours before the next phase of our adventure began.
Credit: http://bit.ly/1V6TYN9
Lesson 3
REI is your friend. Even though we made some pretty basic mistakes, we didn't do everything wrong!
If you're camping on a budget (or not), REI is perfect for you since they have a great return policy and reasonably priced rentals. We rented a tent and a cook stove from these guys—the cook stove ended up being a huge lifesaver as the rainy weather we had for half our trip would definitely have prevented us from starting and maintaining our own fire. We also bought a lantern from REI for our trip, and when we returned it we got all of our money back! (Sorry we're not sorry, REI).
1PM: South Campground, Zion National Park. We awoke after several hours' rest, excited to explore the magical park we would spend the next two days in. How much success would we have, and how much more of a joke would our lives turn into? Stay tuned for the next installation of our camping trip, where we restock in nearby civilization and learn the hard way that not all windbreakers are waterproof….
All the other pics are ours!
Subscribe To Our Newsletter
Join our mailing list to receive the latest twenty-something tips and tricks right to your inbox.
I swear you're going to love us.