As we get older, our stuff starts to literally pile up and we think to either throw it out or keep it all. But what if we actually decided to think about the different ways to optimize our space, especially in cool and creative ways. Here's a few awesome ideas!
Get Rid of Old Clothes
One in One Out Rule: Every time you buy a new piece, bid farewell to an old piece of clothing.
One Year Rule: If you haven't worn it in a year, it's just gathering dust.
Seasonal Switch: Switch out items you won't need for the season, especially large equipment like snowboards or surfboards, and exclusively seasonal clothing like sweaters or shorts.
Consignment: Consigning apparel is a humbling experience—often times, the footwork necessary for even the possibility of selling an item costs more in time and effort than the equivalent monetary gain, even when selling multiple items. TheRealReal is a great designer consignment service that does all the footwork to sell your belongings, including picking up items from your home.
Donation: Donate to specialized groups such as The Humane Society and/or to groups in your community like the Boys and Girls Club and get a sweet tax write off. More, you could bag items and keep them in the trunk of your car so that you can give directly to those in need. Turn this into a deluxe gift by adding toiletries and inclement weather apparel.
Self-Storage: The most economical way to rent storage would be to share a space with a friend. If you have a lot of stuff in the space, use movable shelving.
Alternative Bed Options
Your bed is usually takes up more space in your room than anything else. Freeing up that space is a game changer. Consider:
Wall / Murphy Bed: A great choice due to ease of use and the various customizable options, including shelving units. Out of all the alternative beds, this bed is most similar to a traditional bed and will likely be the most comfortable. Bestar Boutique Full Wall Bed in White $1,099.99
Lofted Bed: With a lofted bed you can actually increase space in your room. Use the space beneath your bed for a couch or add a rolling rack for extra closet storage. Varsity Cherry Loft Bed W/Chest & Stairway $995
Futon: Potentially the cheapest option, futons are great for pulling double duty in studio apartments. Disadvantages include comparative comfort and nightly assembly required. Portfolio Trace Convert-a-Couch Brown Renu Leather Futon Sofa Sleeper $561.99
Closet Organization
First task, switch out all your hangers to slim flocked ones. Fat/thick hangers can take up twice as much space as these svelte ones. Real Simple® Slimline 50-Count Flocked Suit Hangers $29.99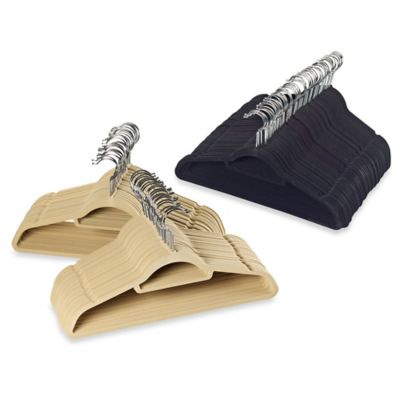 This single item can double your closet capacity. If you don't have the double hanger, you entire life is a lie. Double Hang Closet Rod $12.99
All your shoes should be in one easily visible place. There are various shelving alternatives, but this rack is the best value for housing a lot of shoes. Expanding 24-Pair Mahogany Shoe Rack 24.99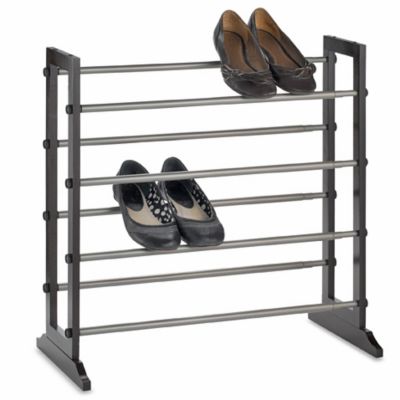 Collapsible and closet attachable, put folded jeans, sweaters and accessories in the hanging shoe bag. Indigo 10-Compartment Hanging Shoe Bag $24.99
Utilize ever inch of space, including space beneath your bed. Wide Underbed Drawer $24.99

Both the inside and outside of your closet and bedroom door are great hosts for various hangers. Overdoor Hanger Loop $14.99
Another great door hanger with double function. Over-the-Door Mirrored Jewelry Armoire Oak $113.99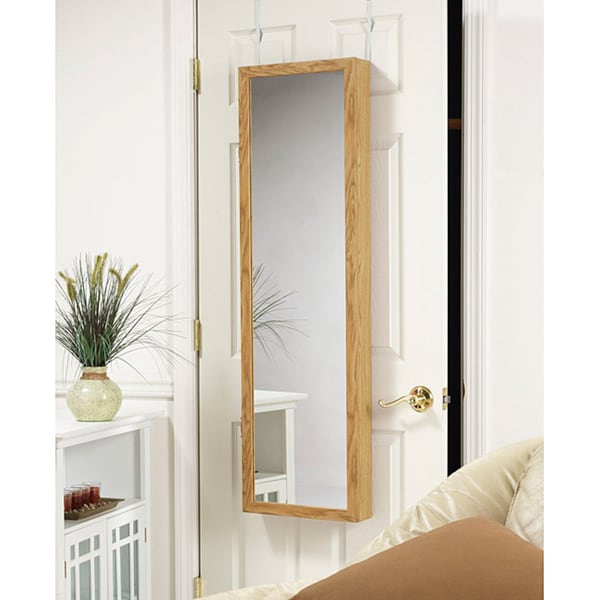 You can hang this organizer inside your closet to get the most out of it, or on your door. Canvas 80-Pocket Hanging Jewelry Organizer $24.99
Your hat collection can be a decorative piece in this case, just beware of the need to continually dust these bad boys. Otherwise, stack and box them. Perfect Curve Cap Rack Pro in White $19.99
For all other open space in your closet, use modular shelving to fit every last bit and bob. Like-it White Modular Drawers $5.99-$34.99
Did you like this article? If so, let us know your thoughts in the comments below.
Are you following us on Facebook yet? Please do so we can keep you updated on everything millennial and youthful and cool. We aim to inform, entertain and inspire and you can find all those goodies on our Instagram and Twitter too. See you there 🙂
Subscribe To Our Newsletter
Join our mailing list to receive the latest twenty-something tips and tricks right to your inbox.
I swear you're going to love us.