Find your inner Monica Geller because it's cleaning time! Here is my easy to follow, mom-approved cleaning checklist.
Daily
Make your bed and pick up after yourself. If you clean up after yourself as you go, your weekly cleaning should take less than an hour total.
Take out the garbage as needed.
Clean your dishes after meals. I know it sucks but 3-4 minutes after dinner will be easier than 45 minutes at the end of the week when you have the rest of your apartment to clean.
Hang up your towel and let that air dry. Don't throw it in the bottom of your hamper; it will be all moldy and gross if its wet for a week.
Clean up countertops after dinner. If you're leaving out scraps of food and crumbs, expect ants.
Clothes go back in the closet, not on the floor.
Weekly
Bathroom
Clean mirrors with windex.
Clean sink with bleach/sink cleaner.
Wipe down surfaces with a rag and 409.
Clean toilet (use one of those toilet wands, so easy and not gross at all)
Clean floors with Swiffer, get both the Swiffer Sweeper and Wet Jet.
Clean shower and check for mold! (Even the cleanest showers are susceptible to mold. If you find some, buy shower mold cleaner. You just spray it on the mold, let it sit for 10 minutes, and wash it off)
Wash towels either every week or every other week.
Kitchen
Run the dishwasher
Clean kitchen counters
Clean kitchen appliances: lift up microwave and clean under, clean microwave, wash outside of refrigerator.
Clean kitchen sink.
Clean floors with Swiffer.
Clean out refrigerator and throw out any spoiled food.
Mother Tip: Keep open baking powder in fridge to eliminate any odors
Living Spaces
Dust furniture, inside and underneath bookshelves and other nooks like around your bed and behind artwork. Dust is everywhere.
Clean TV and computer screens with surface cleaner
Clean doorknobs
Wipe down all surfaces
Clean all floors either with either a vacuum and/or Swiffer, get under rugs.
Laundry. Do it. Don't wait.
Remake your bed with fresh sheets.
Sweep outside in front of your door.
Monthly
Wipe inside bathroom drawers
Dust baseboards
Clean windowsills
Clean windows
Clean inside fridge
Mother Tip: A cheap but effective cleaner is white vinegar and water. Cleans everything!
Some of you may want to complete your weekly cleaning all on the weekend, while others may want to break it up each day. Happy cleaning!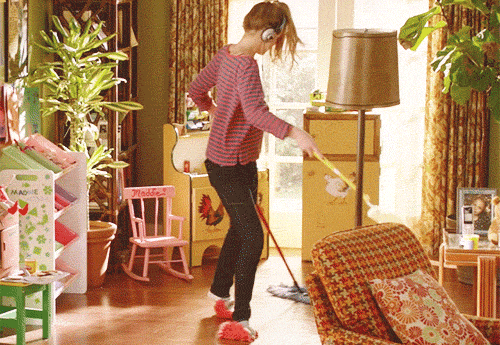 Did you like this article? If so, let us know your thoughts in the comments below.
Are you following us on Facebook yet? Please do so we can keep you updated on everything millennial and youthful and cool. We aim to inform, entertain and inspire and you can find all those goodies on our Instagram and Twitter too. See you there 🙂
Subscribe To Our Newsletter
Join our mailing list to receive the latest twenty-something tips and tricks right to your inbox.
I swear you're going to love us.