So, you know about what the landlords are looking for when weeding out the tenant pool. For some of you, that list may have been a stress reliever. For others, it may have been slightly panic inducing (sorry…).
If any of the red flags I mentioned earlier apply to you, take a breath.
There is a way around them.
Money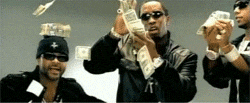 Most landlords will agree to accept a larger security deposit (think 2-3 months rent) as a means of approval to cover a wide variety of potential issues.
Low Credit Score
The golden number for approval is 620. If your credit score is below this line, be upfront with the landlord and be ready to explain the low score. Ask the landlord ahead of time if they allow NRGs [Non Resident Guarantors] and ask a family member with a higher score if they will co-sign the lease with you.
No Credit or Rental History
Get a credit card. Start with a low limit + pay it off every month. A year long history of on-time payments will boost your score and give you the credit history you need to rent. No rental history? Use your dorm address[es] and list your campus Residence Life as your landlord.
Income Rank
If your income does not meet requirements, you need to look for a cheaper place. Pay check to pay check living is terrifying. Trust me on this one.
(I know, I said I had solutions to every red flag. You'll thank me later when you have $$ to buy a house one day)
Cashable Assets
If you don't have a lot saved up, you have two options:
Option A: Wait until you have more money
Option B: Ask your boss to write a letter saying that you are a good employee and that they have no desire to let you go in the foreseeable future (think 6 months). Most landlords will accept that (with a larger deposit) and agree to lease to you.
Move History
Explain. Have detailed reasons why you left and references to back them up. Old place was infested with bugs? You'll need pictures, emails and receipts to prove it.
Employment History­­
Again, reference letters are your best bet. The "promise of employment" letter I mentioned earlier will also help you here. Still in college? Get a professor and/or an advisor to write a letter about what a great student you are and what you plan to do in the future.
Criminal Record
This is one you definitely must be up front about. The best way to get ahead is to do a background check on yourself here or here. Whatever shows up on this record, will show up on your landlord's search. Be honest + explain what happened. If possible, provide a reference letter from someone involved in your court process. As long as you have a non-violent record and the arrest/citation is over a year old, you should be clear to rent after talking to the landlord.
Overall, honesty is the best policy. A good landlord will be appreciative of your willingness to be upfront and honest about your past. They may still charge you more for a lease, but hey – at least you'll get approved.
Subscribe To Our Newsletter
Join our mailing list to receive the latest twenty-something tips and tricks right to your inbox.
I swear you're going to love us.