IT'S THE MOST WONDERFUL TIME OF THE YEAR!!!!! Insert every single Elf GIF in existence!!!!! With all the holiday parties coming up, your wardrobe might need a little extra holiday cheer. I miss the days when I just showed up wearing whatever my mom bought me, ate all the cookies,  and passed out. I mean I still eat all the cookies, but there's a lot more shmoozin' and boozin' involved. Not to mention putting together the proper outfit so Great Aunt Mabel doesn't lose her glass eye over my skirt length. To make this month a bit easier on our minds and budgets, I've mapped out a holiday party guide to get you looking merry & fly as can be.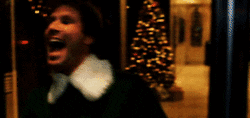 Family Parties
Ladies, the key is to not look like you ended up at 1Oak. So nothing too short, see-through or backless. J Crew has some amazing ideas for conservatively chic outfits. Think knit sweaters and flashy midi length skirts. Gent's, a nice sweater and boots are fail-proof! Think what you would wear to meet your girlfriend's fam for the first time, but more festive and less buttoned up.

Work Parties
Almost the same as dressing for a family party, but more polished and professional (depending on the job). Dress how you normally would for work but with slightly more flare and color. Maybe a pop of red on the collar, or an embellished knee length skirt.
Friend Parties
Honestly, wear whatever you want to your friend's party because we're gonna be more lit than a Christmas tree. Buuuuuuut if you love to dress up this is a great excuse to buy a fab outfit!! (Guys you can stop reading unless you wanna be a savvy gift giver for all the stylish ladies in yo life this year). For Love and Lemons and Stone Cold Fox's F/W 2015 collections offer up some great inspiration, rich with crimson, charcoal and navy shades.
Nothing says "I'm here to party" more than fringe & leather
The Reformation has a fun NYE collection featuring lots of velvet and metallic knits, with various dresses named after various cocktails and Drake songs.
Did you like this article? If so, let us know your thoughts in the comments below.
Are you following us on Facebook yet? Please do so we can keep you updated on everything millennial and youthful and cool. We aim to inform, entertain and inspire and you can find all those goodies on our Instagram and Twitter too. See you there 🙂
Subscribe To Our Newsletter
Join our mailing list to receive the latest twenty-something tips and tricks right to your inbox.
I swear you're going to love us.